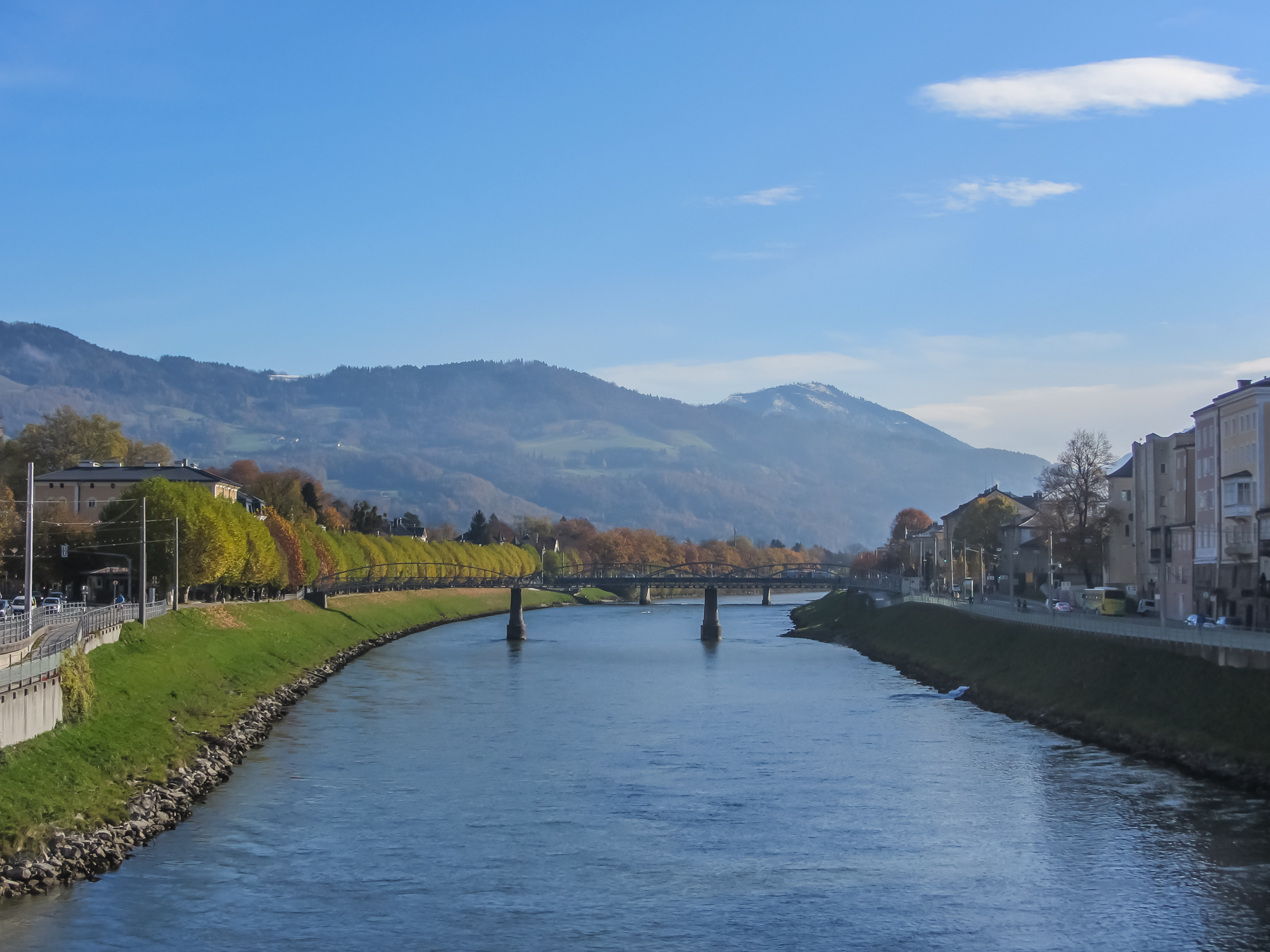 Acazia Official Austria Blog – Sweet, Sweet Salzburg
There was an audible gasp when the train emerged from the blackness of the tunnel. A sea of rolling hills claimed the scenery while a peaceful lake glittered in the foreground. Mighty mountains boasted high snow capped peaks, almost seeming to compete with one another for grandeur. I was hard to breath. The lady beside me gave a little laugh and then returned to her book while I was glued to the window. I tried to snap a picture, but the train whizzed away too quickly; the shot was blurry and didn't capture the initial scene, but I got it.
https://www.hostelworld.com/hosteldetails.php/Yoho-International-Youth-Hostel-Salzburg/Salzburg/735 Yoho is the best hostel I've stayed in so far; beautiful, large, warm and clean. A movie played every night in the lounge, there was a bar, and though the kitchen was more of a kitchenette, it had everything I needed.
On my second night, (November 8th) the movie was canceled. When darkness fell, there was a shockingly loud clanging of bells, shouts and screams. The building was having some sort of traditional 'cleanse' by a few Krampus figures. Their costumes were exceptionally well made; a large hairy body and a frightening horned mask. They flickered the lights, danced around with their ear splitting bells, scared some of the ladies and stole a random guy's beer. When someone tried to take a picture of them, they would roar and chase the person around, dancing, shaking and snarling. This went on for over an hour. Needless to say, I didn't get much work done.
Salzburg itself was absolutely f*cking phenomenal; a small town feel with a view no less than breathtaking. On the sunniest day, I made my way to- what else- the castle. The fortress sat on a perch so high above the city it was visible from street level. The sidewalks were spotless, with not a shady individual in sight. Something else I forgot to bring up in the Vienna blog (which I'm assuming means this takes place all over Austria) is the pedestrian traffic light; they don't show one person but two; either two men, two women, or one of each hold hands at the red, then crossing together on the green. Just something that made me smile.
500 meters up, Hohensalzburg Fortress commanded attention and respect. I didn't take the gondola up, rather making the pilgrimage on foot. It wasn't too expensive to get in, which was a bonus. This may have been the largest courtyard I've seen thus far, surrounded by meters thick stone work on all sides. Peering down over the valley and the city nestled in there; I could see the train station where I'd arrive, distant towers and farm land stretching on forever. If I knew exactly which building it was, I probably could've made out my hostel too. There weren't many mountains, at least not on this side.
Inside the keep was as you'd expect; sections of museum that showed off a variety of castle living. The armoury displayed warriors from plated knights to the soldiers of World War 1. Recordings of old music played and delicate wares of cloth, pottery and gold coins sat on display. A little alcove showed off a troop of marionettes while in another, a screen displayed stages of construction dating all the way back to 1077. Ancient artillery still kept vigil around the castle, and in the state apartments, golden leaf adorned the walls. From out the window I could see another range of mountains, but it looked impossible to get a better vantage point.
I was going to walk down, stretch my legs, but included in the admission cost was a one-way trip on the gondola. I walked up so might as well take the easy way down. A pathway coiled around one of the towers to somewhere I hadn't yet seen. Curious as always and with not rush to leave I persisted onward. I've tried and tried to come up with something, but there are no words to describe what I came across; a viewing platform.
Just- wow.
Salzburg; what I needed, exactly when I needed it. There wasn't much talk with roommates this time round, which is actually pretty disappointing. On my last night I did chat up a pair of American girls, telling them they absolutely had to see the castle; I hope they got to see it. I got my little keepsake, totalling three now, and I'm headed back to Germany. I have some very important decisions to make quite quickly, but if there's one place I want to see again; one place I will absolutely miss- it's Salzburg.