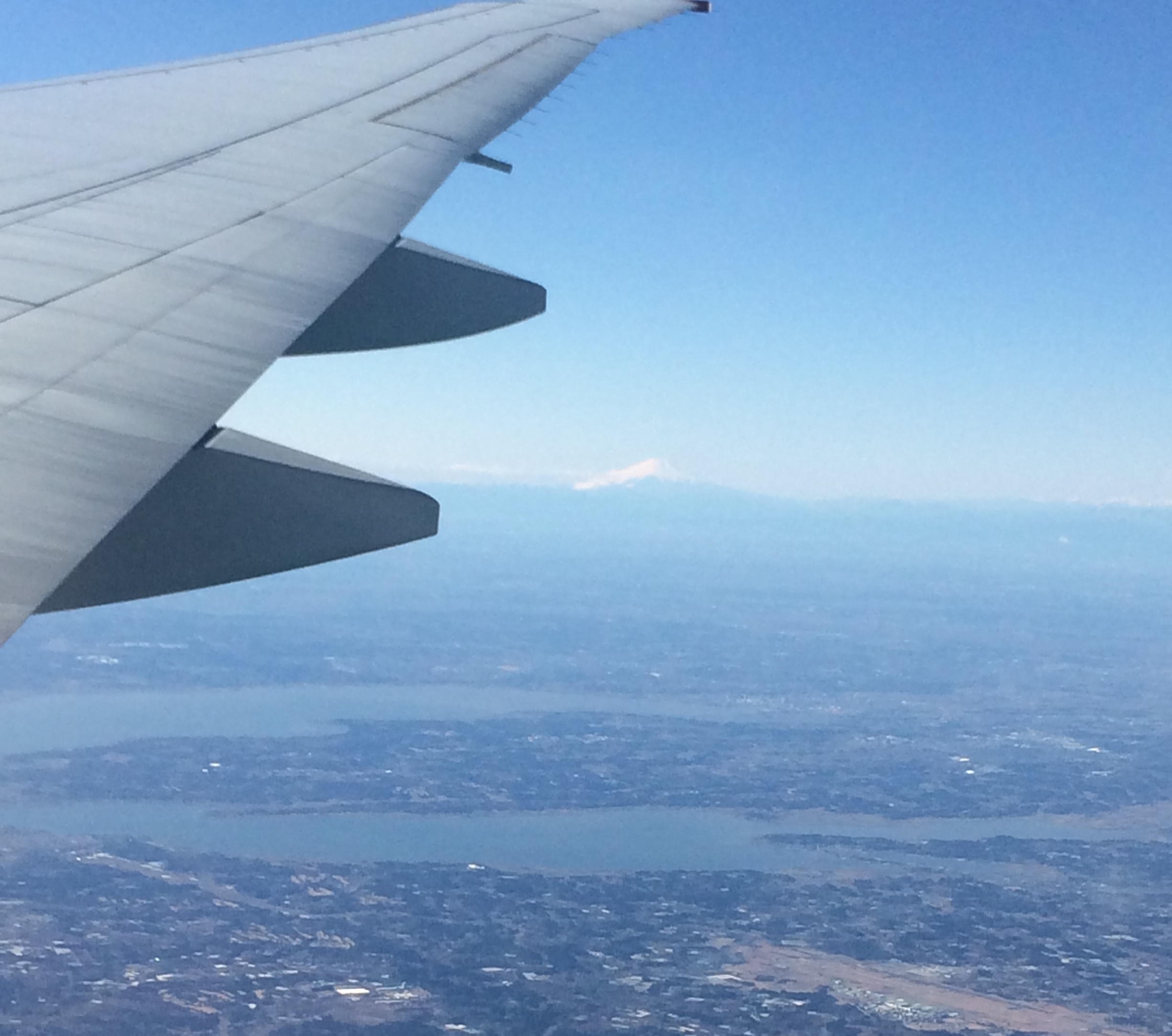 Acazia Official Japan Blog – Land of the Rising Sun
Before I could make it to Japan, we landed in Russia. Playing 'Katyusha' the moment the wheels hit the tarmac seemed right. I had a full day layover in Moscow (such is the counter for such a cheap flight.) For over 14 hours, I wandered about the airport. Firstly, the wifi was sketchy, and not in the bad connection sort of way. To log on I was asked to upload a picture of my passport and agree to the "storage and processing of personal data." Yeah that's going to be a hard no. Maybe I could have left, but I didn't look much into it. I may have needed to pay for a Visa to leave, which would have been pointless for so little a venture, and then go back through security to reenter. So I napped, wrote a bit and powered through my playlist. One last note about the airline I flew with; I was almost surprised. The flight was fantastic (would fly again) and dayum dem Russian flight attendants nice.
Over the horizon, the powerful Mt. Fuji came into view. Playing 'Ignite' the moment the wheels hit the tarmac seemed right. Security was no problem, and after passing the sign Welcome to Tokyo, I may have squealed a little. Ok time to find my- crap, I didn't download my offline map. Thankfully, the wifi at Narita Airport didn't insinuate I would be stalked by the secret police. Right, there's my place, got the route saved, let's go catch the train. With Suica card in hand, and quickly getting off the wrong train before it left, I rode the rickety rails and hour into Tokyo.
Something kicked in on that train ride though. It may have been culture shock, but it felt more than that. I was scared. I'd been nervous going to other countries before, but this feeling was totally different. I was an obvious foreigner; a tourist. In Europe I could blend in, but here in Asia, I look- what's the right way to say this- out of place? And that feeling stuck with me for days. Luckily, my first place gave me a warm reception.
Tak, the owner of the bnb, was super chill. https://www.airbnb.com/rooms/25693184?source_impression_id=p3_1581843797_PynXZkqTe%2B7319m6 It was outside greater Tokyo in more of a suburbs area. We talked a bit and I felt a little more comfortable when I had somewhere to rest my head. At the little mall down the road, I replaced my headphones with cheaper yet better ones. I hopped between a few stores and got my first taste of authentic Japanese food. The company at the bnb was pleasant too. A trio of Asian guys from Australia I said hi to every morning, an older gentleman that moved around at a greatly reduced pace and a few others in passing.
Down the road opposite of the mall was a river traced by a jogging track. It was a short walk away and past some temples, so it was nice to go to every few days. There wasn't a ton else to do, save from taking the train into town. I knew I'd be there in a few days, so I took this as more of a period of adjusting. I had work and writing to catch up on and besides I slept away most of the first two days; jet lag and all.
I didn't see another Caucasian person for the whole week which was strangely unsettling. When I was checking out, I briefly talked to a lady from the US before Tak insisted I get my picture taken in front of his sign. Thinking back to the whole Russian passport thing, I was initially skeptical, but I shrugged it off. I smiled, strapped that stupid heavy bag to my back and started on my way. I could have taken the train but chose to walk. It was only 3 hours and I'd get to see a lot more of the city; no problem. It's not like I've made this bad decision before. (See Hangover Hannover)