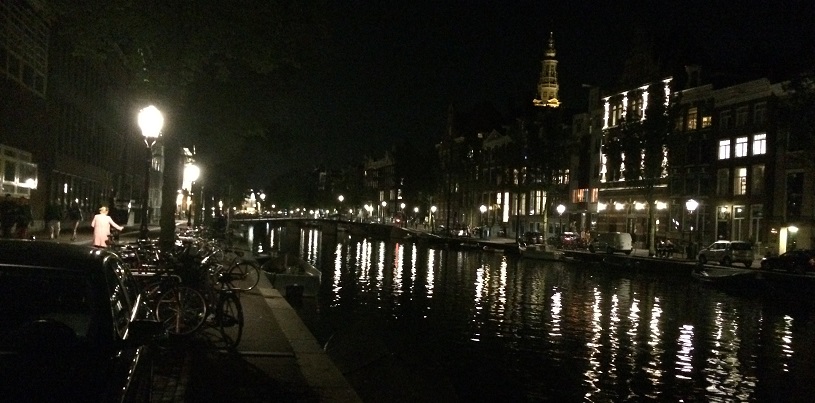 Acazia Official The Netherlands Blog – The First 72
Let. Me. Tell. You. The first few days getting to Germany were a lot more stressful than they should have been, but let me start from the beginning. Knowing my flight left from Vancouver Airport at 6:30 am, I had to take the ferry from Victoria the night before. The usual 90 minute boat ride was as usual, boring, but with the moonlights glow gently reflecting off the smooth sea's surface, it was a pretty sight to behold (unfortunately the pictures didn't turn out so great) Then on the bus, I guess my big backpack nearly squished this grumpy old hag's dog. Seriously, who puts their dog in a duffle bag beside a whole heap of luggage? Anyway, to the airport.
Lady: "We can't do check in until 4 am."
Me: "But it's automatic? I can't just-"
Lady: Looks at me
Me: "Fine, I guess I'll wait."
Well at four, there was a lineup. I did the automatic check in and, like an idiot, waited in line 20 minutes to get my bag checked. It was a carry on. Now through security; first I stopped for a random bag check and then after I trigger the metal detector. I had nothing on me. At least the flight was soon. 4 hours to Toronto in the middle seat and the TV's didn't have headphone jacks, so phone games and it was.
So there I sat and waited, and waited, and waited. With nearly a 9 hour layover, I was surrounded by overpriced snacks and the last Tim's that I'd see for months had a lineup stretching for days. I fell asleep n my open laptop. So finally it's time to board, but do you think that the plane packed with over 300 people trying to get to Amsterdam could leave on time? There was a friggin lightning storm over the airport. We waited taxied for over hour and a half. I watched a full movie before we even took off. At least I could hear the TV this time, and through I was in the middle seat again, the cutie by the window made the 6 hour flight (plus the 1.5 hour taxi time) tolerable.
Ah Amsterdam with your tulips, clogs, and the pot scented air that smells like my brother's bedroom; I remember you, I've been here before. In fact, this hostel looks strikingly familiar. Did I- no… I couldn't have possibly booked the same hostel I was in two years ago? Yep. Hostle Leidseplein. (Review here) And once again I had to wait, just an hour this time, until check in. Now things start to calm down. After a power nap and clocking some online work hours, I took an evening stroll. I did in fact see the pretty ladies dancing in the windows, as well as the rest Amsterdam's famous night life: over capacity pubs on every corner, bursting with patrons like a fat dude's button up shirt and couples sharing moonlit canal tours while music play from out of sight. I would have spent longer in such a fine city, but I still had one more day of travel before arriving in Deutschland.
Chocolate covered toast, tea with coffee whitener and checkout at 10 am. Morning wandering around Amsterdam trying to find a restaurant named 'Maria' before the train to Hannover; done. Yet another 4 hour road trip? Ready to go. After we crossed the border into Germany, our Dutch train crew switched off to their black, red and yellow counterparts. The first pair of people to board the train, the first native Germans I saw… were police… and I was on a train. Just some weird vibes; (trying to be funny, not insensitive) the black eagle on the yellow background of their arm patch posed impressively and strong.
"Don't worry about learning German right away, everyone can speak English," I was told. Really? The train conductor over the intercom didn't. I was sitting bolt upright, trying to keep my dying cell phone map open and hear the city names through the scrambled static of sentences I could not understand.
"sljf?hsf phefen5jw lkuef Hannover!"
I leapt off. Thankfully, my host gave me instruction about where to go from here. Though I got lost, again, I eventually found my way to the tram, and upon exiting, marched to his place. Ok maybe not so much of a march, but a slouched saunter with my heavy bag strapped to my shoulders. There it was, the apartment door, and on the buzzer was- not his name. His surname was there, but through our conversations, last names didn't come up. He'd given me his phone number to call when I arrived, but I'd canceled my phone plan the day before I left (because expensive) and due to that, I also had no data to send him an email; no Wi-Fi, nothing. So I stood there, mere steps from my room, locked out and exhausted. Some passer-by must've heard me muttering English profanities and cocked his head my way. I did the best I could to explained my situation. He let me use his phone. 5 minutes later, my shoes were off, phone was charging and my bag-o-burden was on the floor. I have a full week to recover from the last 72 hours before I move on to my next destinations, and let's hope that journey is a lot smoother. My first few days traveling overseas were a handful.